How This Millennial Entrepreneur Spent Close To 2-Years Building An Offline Computer Vision Translation Startup for Asia
|
With the Chinese economy booming right now, it's not so uncommon to see foreigners from all over the world spend a few years in China, learning the language and finding new opportunities. For entrepreneurs, China's rapidly developing tech scene, manufacturing industry and larger market, make it even more enticing.
This very exciting Chinese market was enough to incentivize Waygo Founder Ryan Rogowski to spend one year immersed in China as an IOS developer. Then, a personal pain-point of having to eat the same 'Kung Pao Chicken' for the longest time because he couldn't fully understand the local language yet would lead him to create Waygo.
Waygo is real-time computer vision platform that uses optical character recognition (OCR) to allow your phone camera to instantly translate text without Internet connection. Currently, you can instantly translate Chinese, Japanese and Korean.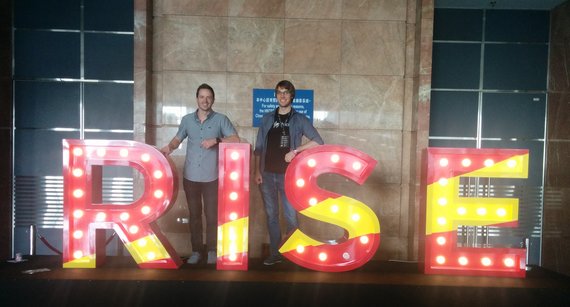 The Waygo team at the RISE Conference where we got to interview Ryan

He shared, "I thought my personal phone should be able to read foreign language so I quit my iPhone game development job to build a real useful tool. I started to build the basic algorithm for the app then when I moved to the US, I met my two cofounders, Huan-Yu Wu and Kevin Clark."
Huan-Yu Wu, who was originally from Taiwan but moved to the US, had a strong background in computer vision. While, Kevin Clark reversed engineered the Google Goggles for his research paper and was interested in natural language processing and travel. Ryan had found the perfect team.
It was heads down for them working on building the application for the next 1.5 years.
Building the product from scratch

They would spend the next 1.5 years building the whole computer vision technology in house with a goal of taking the computer vision and translation technology offline. The result? 3 US patents and a lot of moments where they wanted to give up in between the 1.5 years.
Ryan shared, "It was a very intensive product to build and required a lot of R&D, figuring out how to build the algorithms and how to make them run efficiently on a mobile device."
And this one year and a half wasn't easy at all. Ryan recalls running out of money once or twice during that one year. He shared, " Before we had our product finished, we ran out of money so we had to take on consulting projects on the side to pay the bills."
He added, "We worked on a couple of web projects for clients while continuing to build the Waygo technology. It was really tough on the team because we were balancing multiple tasks at the same time but we pulled through."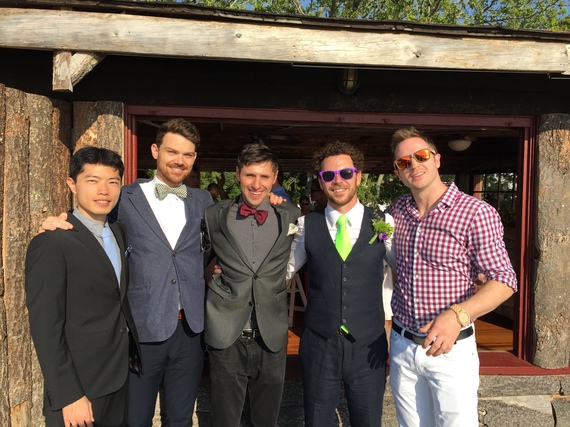 The Waygo Team at one of the Cofounders' Wedding
From Product into Company

Once they finished building the product the next step was turning it into a company and beta testing.
Waygo would go on to join top startup-accelerator 500 Startups, where they would spend many sleepless nights thinking about how to get their name and product out there.
Ryan recalled, "In the beginning, we actually went to a lot of conferences and tried to show up in the pitch events with the hopes of demoing our product and getting some users. That was pretty challenging in the beginning."
Ryan even recalls his relationship with one of their early investors, who first thought that what Ryan was trying to do was impossible. He shared, "When I told him the idea, he told me it was impossible but I went back to him after the 1.5 years and demoed the product. He was ready to write a check right there."
Right now, the Waygo team is focused heavily on the Asia market, working on deals with companies in China, Korea and Japan. He shared, "Tourism is one of the main verticals we're targeting. There are a lot of companies specifically in the Asia-Chinese tourism market and there are so many outbound Chinese tourists with very few language support."
At the same time, the Waygo team is now looking for launch partners as they pursue new language pairs. Ryan shared, "Essentially we integrate with a partner and they will help us with the distribution."
Memorable Moments – 'Extreme Pitching'

Ryan recalls the pitch practice session they had during their stint with the 500 Startups Accelerator, where they had to go through 'extreme pitching'. All the founders were put in very uncomfortable positions and situations where they would have to pitch their idea in order to prepare them for the final pitch demo day.
Ryan shared, "It really helps build your confidence and your ability to control the stage."
For Waygo, Ryan ended up pitching at a farmer's market where he drew a huge crowd. The aftermath? He was asked to leave. However, this experience would give him enough confidence to take extreme pitching to other places. Ryan recalls going to parking lots with a loud speaker and pitching Waygo to people.
All this pitch practice would lead to Waygo winning the SWSX Startup Pitch Competition in Austin, Texas. The Waygo team even had a mascot called the Waygo duck, a full duck costume that helped them become a crowd favorite.
Ryan shared, "We would tape a menu on it and people could translate the items from it. We ended up travelling around after winning SWSX with the costume on.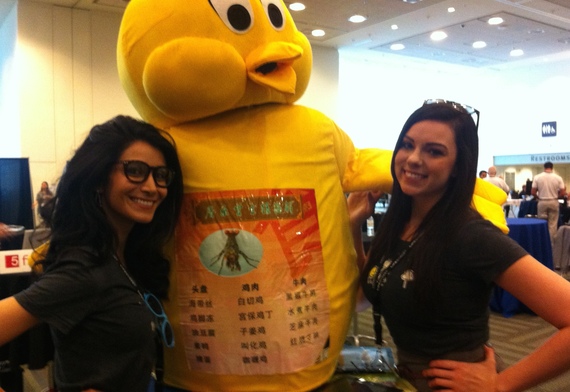 The Waygo Duck is famous with the girls
Perseverance is key in startups

Ryan highlighted the importance of perseverance when it comes to the startup world. He shared, "It's a very challenging journey and I think a lot of people interested in doing startups and working in startups don't realize how hard the ups and downs can be."
He added, "It sounds exciting and sexy working for a startup but there are a lot of down times where you just have to push through like when your major deal doesn't close, you have a bad launch, you don't get the investor you thought you would. There are a lot of tough times so its important to remember that its a long journey and so you just got to keep at it."
I think its really amazing just looking back and seeing how much we've accomplished. It's been a long journey and there's still a long way to go.
Ryan recalls some of his most memorable moments like winning the SWSX contest and running around with the big check they won and trying to have the bars cash it. They even tried to put it in the ATM.
He shared, "It's just great having fun with it and remembering to enjoy the journey even if it's stressful. The best part is doing something you believe in and having fun with it."
Future of Natural Language Processing

Currently, the Waygo team is looking for technology partners for their software development kit (SDK) that they launched this year. Ryan shared, "We're also starting to build out a licensing model basically taking our technology and integrating it to a variety of products including travel, education, scanning and more."
Ryan believes that the translation technology and industry is advancing very quickly with a lot of advancements happening in machine learning technology and natural language processing.
He gave examples of Skype launching their translation feature and WeChat having inline text communication translation.
He shared, "I think language as a barrier is being solved and its exciting time to be part of the industry. With globalization happening so fast, there's this giant problem. But the base technology and hardware is pretty much already there. It's just now improving the research and software to get things done efficiently for you."
Ryan believes that within our lifetime, we'll be able to translate and speak multiple languages fluently with the help of technology.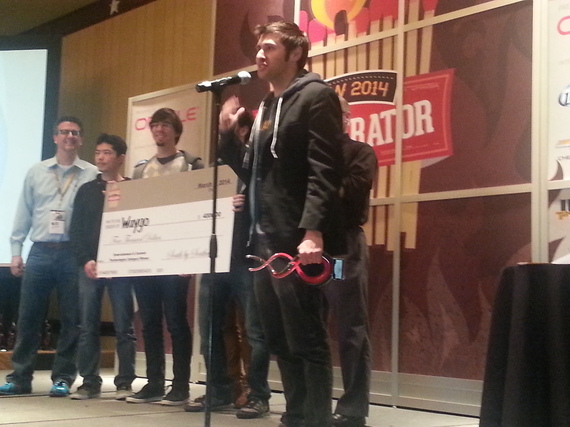 The team being awarded at the SXSW Competition
Future of Waygo

Currently Waygo's active user base has made over 5 million transactions. The major usage patterns have been China and Japan, while Korea is a bit smaller because there are less western travellers going there.
Ryan is spending a lot of time talking with potential partners and corporations they can work with to integrate the Waygo technology. They hope that other companies can use their recently launched SDK.
In the long term, Ryan hopes that Waygo can become the best language recognition engine for images. He shared, "Long term, I see what we're doing evolve into wearable technologies and even using similar technology to augment things."
Visit the Waygo site here to learn more about them. Check out the video below to see Ryan doing some extreme pitching.